BEAUTIFUL HOME IN HISTORICAL CENTER
LIVING JEWEL OF THE OLD MAZATLAN
Detailed description:
Fuentevilla House on Mariano Escobedo Street: Built by the Fuentevilla family in the Old Mazatlan of 1925. Back to back with our well known "Plazuela Machado" in the heart of our Historical Center and only five blocks away from the Olas Altas Beach. The house is divided in three sections: First section of the home with 3 bedrooms on the main floor, each bedroom with private bathrooms, large closets, a complete kitchen with an island, dishwasher connections, high ceiling Hacienda Style wooden ceiling beans, main dining room, plus informal eating area, living room, majestic entrance to the house. Second section: Private entrance to a two bedrooms on two floors, one with a private bathroom. Bedrooms may be used either as a combination Office and Gym. Third Section is a totally Independent Suite on a second floor with a large private terrace. There is also a large spacious garden with four avocado trees, large terrace and garage for two cars The property is located in a European ambience, where the best Restaurants of Mazatlan are within walking distance as well as the beautiful large Cathedral, the Municipal Market and Department Stores of the very best. The house has functioned as a B/B and as a home to the Fuentevilla family for a number of years.
Amenities and neighborhood.
Private Parking
Electric energy
Street lighting
Kitchen with cabinets
Nearby Schools
Air Conditioner
Studio
Laundry Room
TV Room
Breakfast Bar
Terrace
Location map.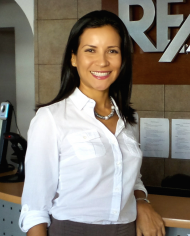 Agent:
Rosa María Osuna
PROPERTY PRICE $610,000.00 US
General Information
Code:

RCV1683E-28

Type:

House

Property:

For Sale

Lot size:

5810.4 ft²

Living area:

4199.09 ft²

Levels:

1

Bathrooms:

5.0

Bedrooms:

5

Parking:

2
More info
---
Compare this property
Add property

Select minimum 2 properties to compare them side by side.
---
Calculate financing
Play with our calculator for the financing.
USE CALCULATOR
---
Print or send this info
Print or send the information of this property by email.
PRINT FLYER