The quiet Centro neighborhood boasts streets with newly laid paving stones and brick tiles, historic streetlamps with hanging planters, and up-lights flush with the sidewalk to illuminate the colorful architecture.
Our cab ride from the airport was a quick one: less than 30 minutes from the curb to our beachside hotel in the historic district in Mazatlan. Along the route, my husband chatted in Spanish with our driver and I surveyed the passing scene, glimpsing fleets of shrimp boats by the dozens and streets abuzz with commerce.
This was a compromise vacation. He wanted nature, meaning a wild beach to surf and fish, and I needed culture, a town with interesting architecture, art and a lively dining scene. As we crested a hill and saw the curve of Olas Altas beach — blissfully free of rental chairs and vendors — rimmed by low-key beachfront hotels and streetside restaurants, I began to suspect we had found our place.
Located due east from the tip of the Baja California peninsula, where the Sea of Cortez meets the Pacific Ocean, Mazatlan sprawls along approximately 12 miles of scalloped coastline at the base of the Sierra Madre. First settled by Spanish conquest in the 1500s — the name comes from the indigenous Nahuatl word meaning "place of deer" — the town grew through subsequent waves of immigrants, including German settlers in the 19th century whose decorative buildings still line the old town streets.
By the mid-20th century, movie stars such as John Wayne, John Huston and Gary Cooper arrived for marlin fishing, often staying at hotels along Olas Altas. (As the largest fishing port in Mexico, Mazatlan is home to enormous tuna fleet operations as well as an extensive shrimping industry.) By the 1970s, development expanded north along the coast.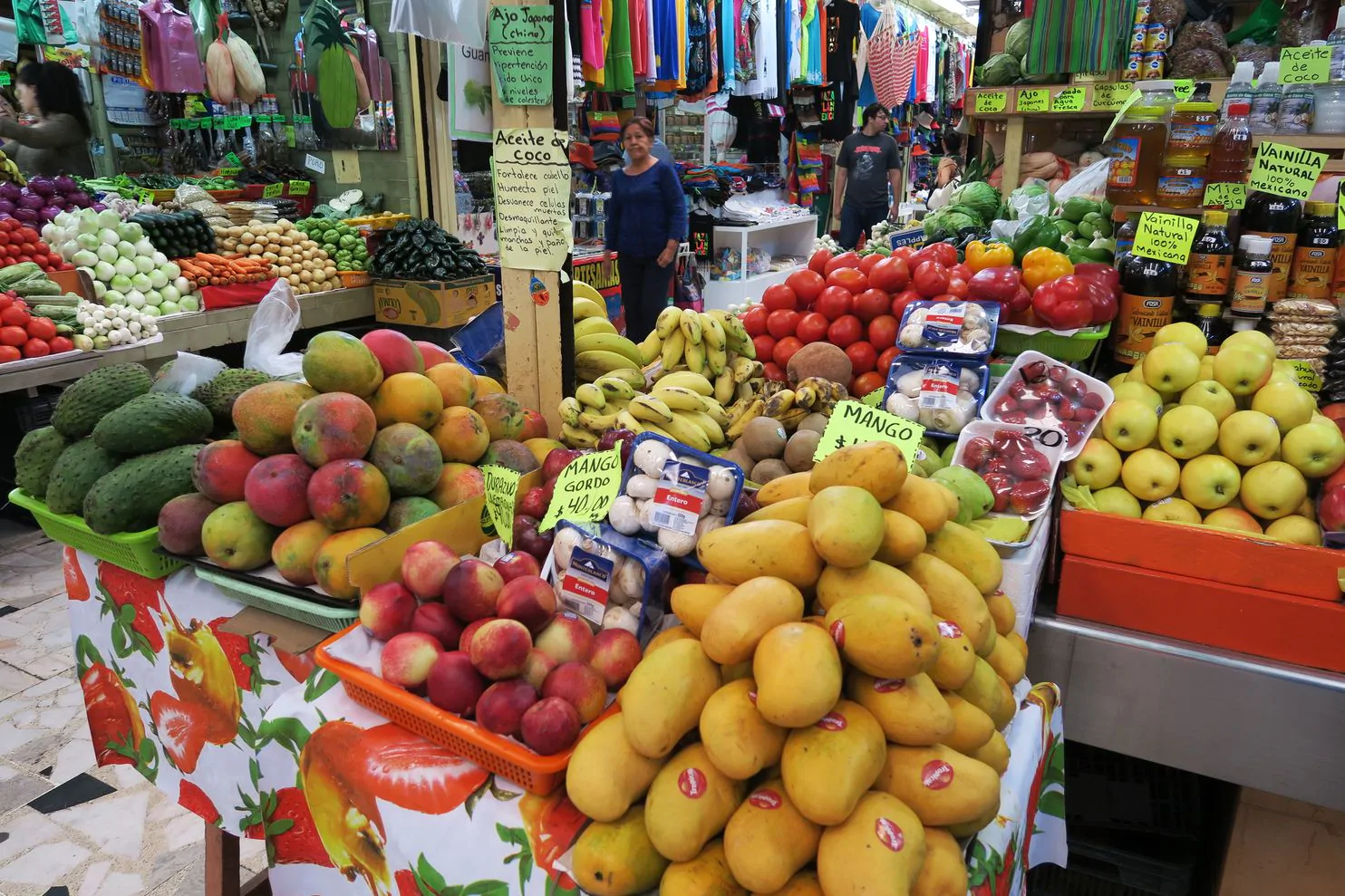 Fresh fruits and vegetables are piled high in the bustling indoor bazaar of the central market in the Centro Historico district of Mazatlan, Mexico.
Today, Mazatlan's three distinct sections offer a something-for-everyone approach to tourism. The central Zona Dorada (Golden Zone) is highly developed with gated high-rise condos and hotels directly on the beach, adjacent to a bustling commercial area with bars, clubs and fast-food eateries. To the north, Nuevo Mazatlan is fast on its way to becoming chock-a-block with new developments including two marinas, gated condos, and resorts with private beaches, golf and tennis clubs.
Our interest was focused on the southern end, in the newly restored Centro Historico, where the local historic society — along with the federal government — is working to preserve the integrity of the architecture and community.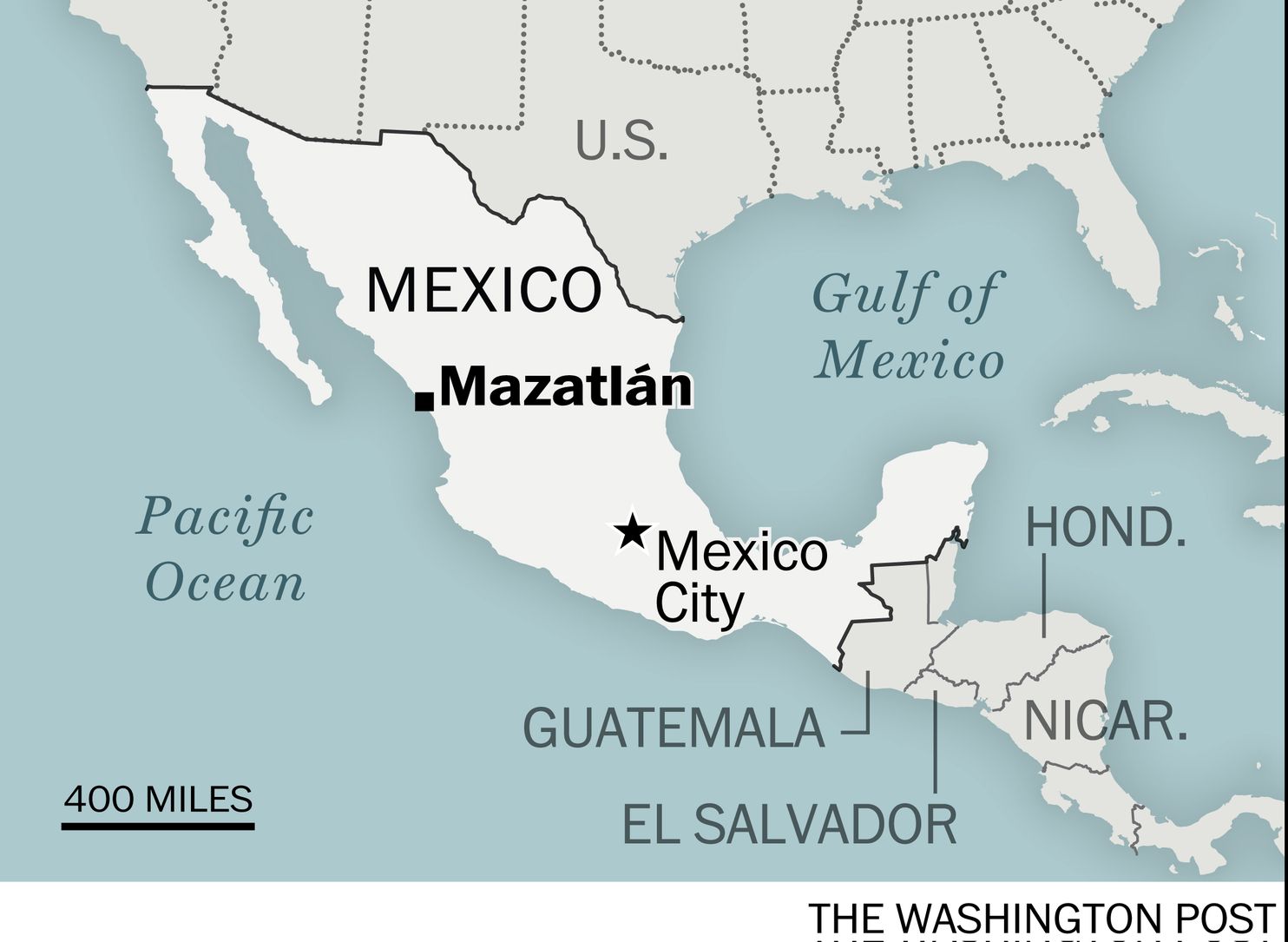 Eight years ago, Fred Howard and Cris Garrido moved from Phoenix to the historic part of town. As full-time residents, they've witnessed the transformation that has put the once-sleepy post-colonial area on the up-and-coming tourist map.
"In the 1980s, Centro was in really bad shape. Even the 19th-century opera house was in ruins. Its restoration in 1992 jump-started renovations," Howard said.
"The largest portion of renovations were done last year. In the past, the philosophy was 'Let's start from scratch,' as in Puerto Vallarta or Cabo. But tourism around the world is changing. People don't only want to experience a five-star hotel. They want an experience that isn't fake," Garrido said.
Indeed. Time and again people described the Centro to us as "Mexican with some tourists," rather than a tourist town (ahem, Puerto Vallarta) with some Mexicans. Although English is understood, Spanish is the predominant language we heard on the streets.
A few blocks inland from the Malecon, said to be the longest seaside promenade in Latin America, the quiet Centro neighborhood boasts streets with newly laid paving stones and brick tiles, historic streetlamps with hanging planters, and up-lights flush with the sidewalk to illuminate the colorful architecture. The changes are more than superficial. A new sewer and infrastructure were part of the area's restoration, including overhead electric and phone lines that were moved underground. The result is a visually vibrant city center with restaurants, shops and small parks, not far from a beach that retains its wild Pacific character.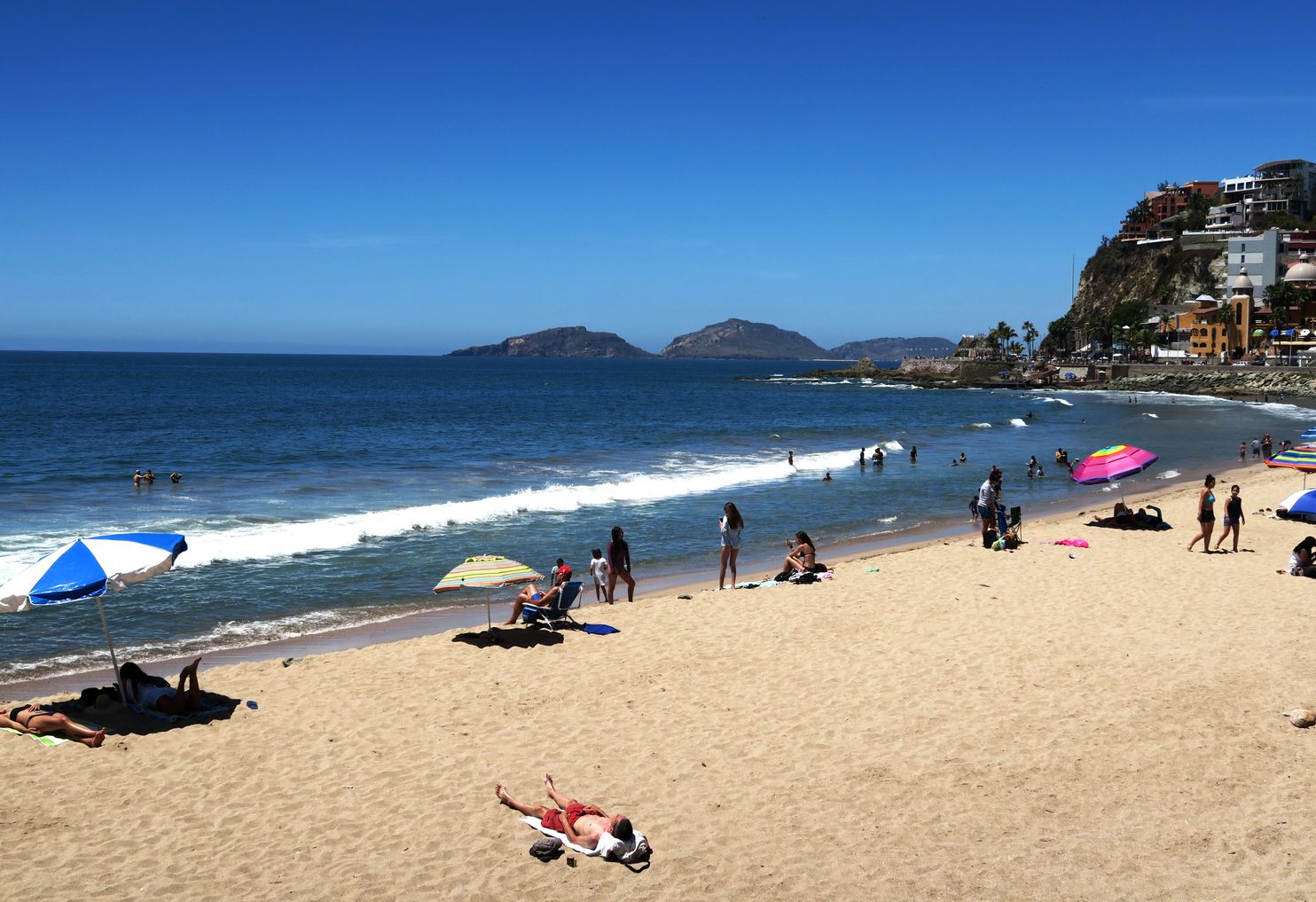 Beachgoers enjoy the sun and surf at Olas Altas beach in the Centro Historico district. The Pacific coast beach, free of rental chairs and vendors, is rimmed by low key beachfront hotels and streetside restaurants
And so we set off exploring. Plaza Machado — a rectangular park with wrought-iron gazebo, lush grass and palm trees — is surrounded by colorful two-story buildings that house a lively collection of restaurants, cafes, art galleries and bars. By day, the plaza is an oasis of calm. On weekend evenings, a festive mood prevails as musicians roam the brick perimeter where local craftsmen sell their wares, and diners enjoy alfresco breezes at candlelit tables.
Just off the plaza, the restored Angela Peralta Theater is at the heart of the town's cultural revival. Named after the legendary operatic diva — who died of yellow fever in Mazatlan in 1883 — the building is home to a stunning 800-seat theater (with elaborate Italianate mezzanine and balconies) that offers classical and contemporary dances, symphony concerts, opera, jazz and more by performers from around the world. The complex also includes a municipal art center, art galleries and fine-arts school.
We wandered most of the 20-block historical area near the theater. Though much of the architecture we observed — including an impressive archaeological museum, history museum, and former shops and homes of wealthy merchants — dates from the 19th century, we also saw a number of intact Art Deco and midcentury buildings that add to the town's visual appeal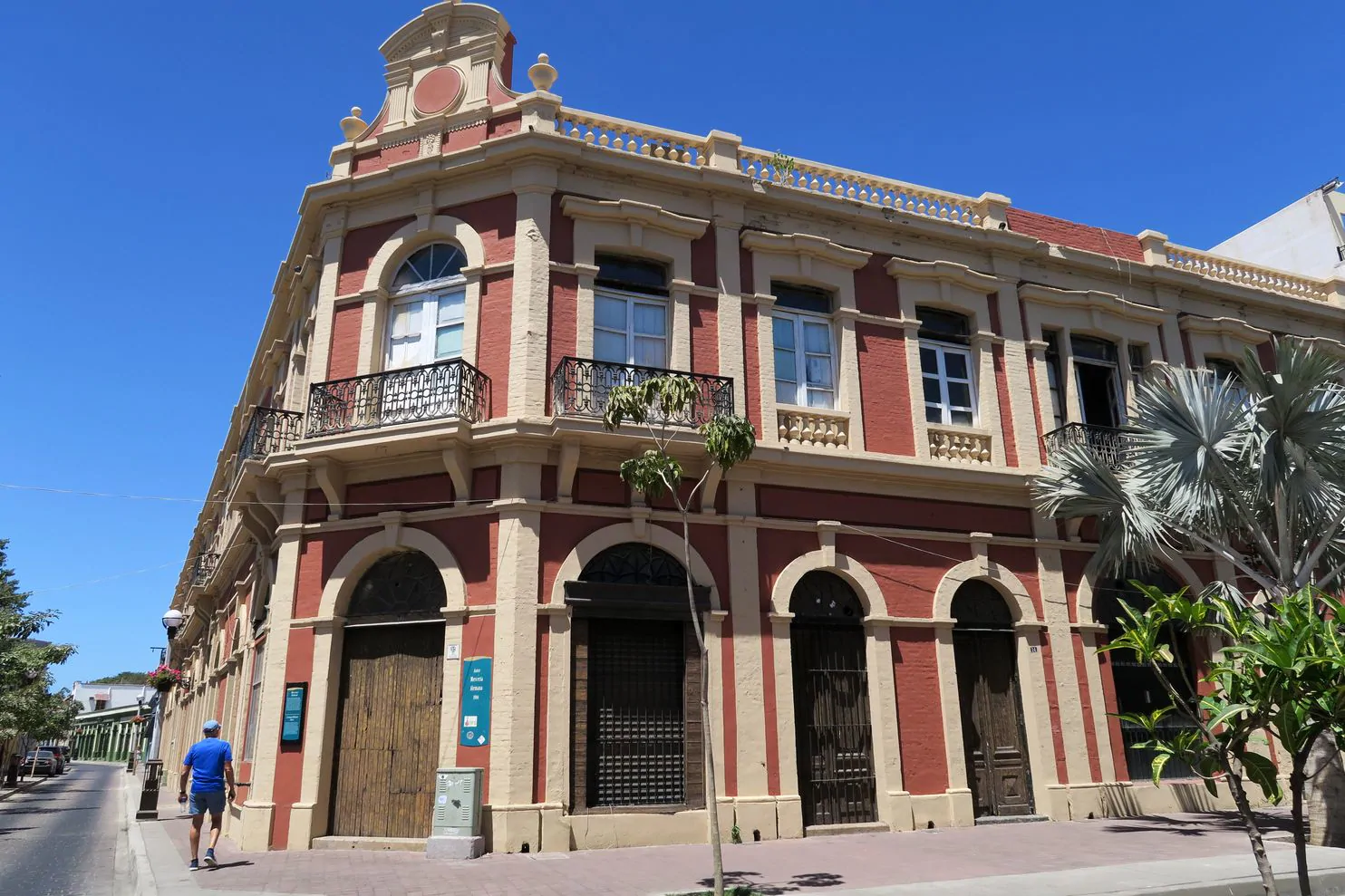 One of the colorful historic buildings, circa 1904, found in the Centro Historico district. This building was home to a German Notions Store, founded in the 1840s, that remained in operation for more than 100 years.
Facing the Plaza de la Republica, another palm-filled park with a Victorian filigree bandstand, we spied the twin yellow-tiled spires of the Cathedral Basilica of the Immaculate Conception. In addition to the expected soaring columns, gilded arches and sparkling chandeliers, the eclectic Neo-Gothic basilica reveals a soaring interior with a surprising piece of history: Each of its 28 stained glass windows contains a Star of David, commemorating a donation made by a wealthy local Jewish family in the late 19th century.
Beyond the cathedral, the central market beckoned. The bustling indoor bazaar offers phantasmagoric displays of local food. Counters were piled high with glistening fish — Spanish mackerel, sea bass, red snapper, snook — mounds of golden and red mangoes, bursts of red tomatoes, orbs of cheese, and vendors selling only one product: tubs of spices, stacks of hot sauces, cases of coffee, chicken or beef cut every which way. Small eateries served casual fare (also found on the second floor) while other shops offered T-shirts, hats, beachwear and other touristy trinkets.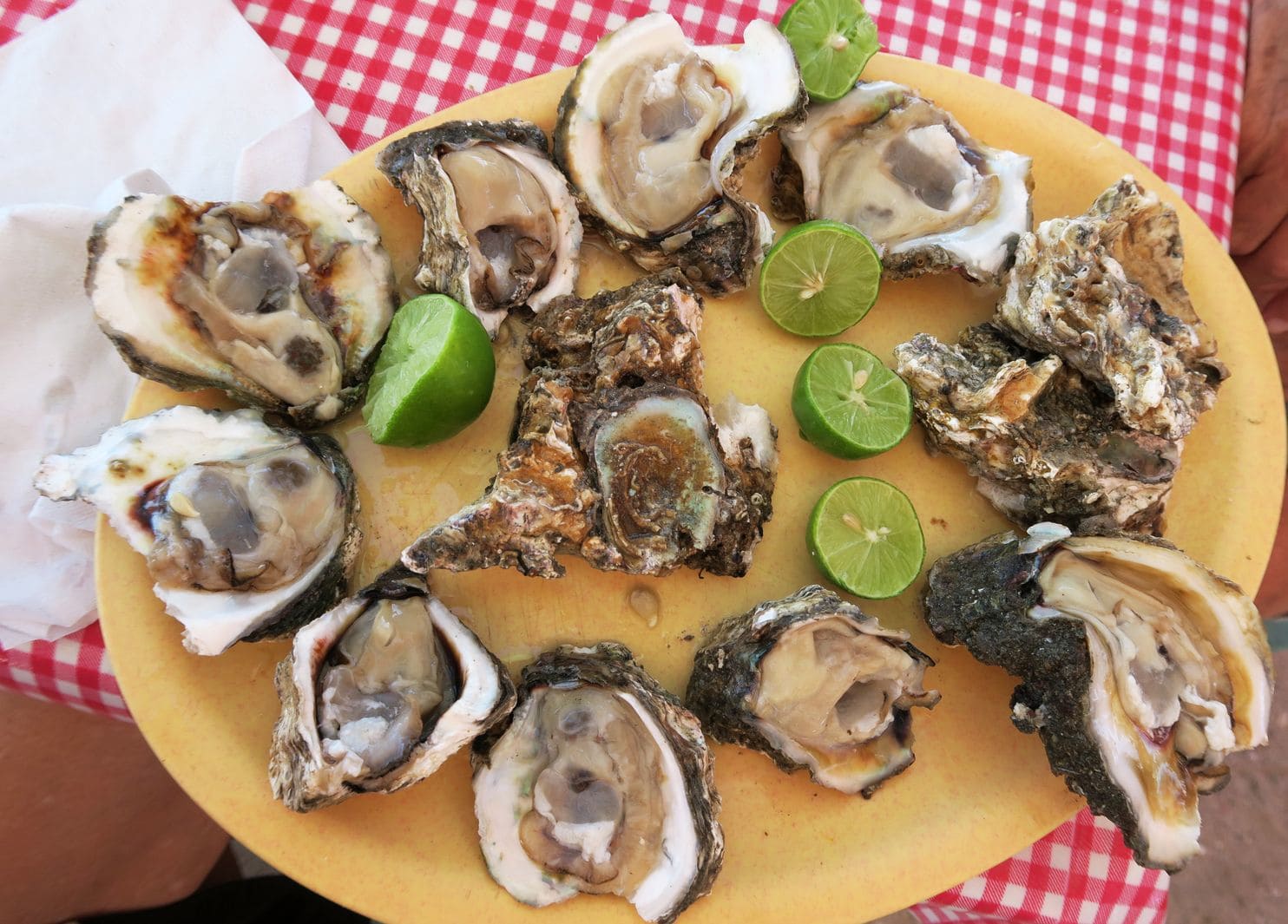 Freshly shucked Pacific oysters, looking like prehistoric beasts, are served at Playa Los Pinos, a shallow wading beach popular with families with small children.
After our nearly three-hour walk, we were ready to retreat to the beach to body surf (him) and read (me). We hailed an open-air pulmonia, the iconic little taxis (picture golf carts with a roof for shade) created in Mazatlan in the 1960s. During our five-day stay, we never needed to rent a car, not even to explore the remote and wild northern beach, Playa Bruja, because pulmonias, and regular taxi cabs, are plentiful and inexpensive.
Serendipity played a part in our daily adventures. While enjoying a breakfast of eggs with tuna chorizo at our hotel, we marveled that such a thing as tuna chorizo even existed. Our waiter disappeared into the kitchen and returned with the label from the product, and directions on where in the Golden Zone to find Dolores Market, a modern, all-things-tuna emporium. (We traveled home with a dozen frozen packages.) By chatting with others we met in our travels, we learned where to enjoy the best sunset cocktails (the roof terrace at the 11-story Posada Freeman Best Western, where we first met Howard and Garrido); where to find a fabulous meal (Hector's Bistro, a stylish and jazzy spot helmed by Mazatlan-born chef and owner Hector Peniche, touted as a catalyst for enticing other creative eateries to the Centro); and where to hear live jazz in Plaza Machado (La Bohemia).
Not surprising, fresh seafood is a popular menu item in the Centro's expanding number of chef-owned restaurants. And yet, perhaps the best tip of all for two oyster aficionados was where to slurp fresh bivalves on the beach. A brief pulmonia ride brought us to Playa Los Pinos, a shallow wading beach popular with families with small children. Seated at plastic tables and chairs, shaded by umbrellas, we enjoyed two dozen freshly shucked Pacific oysters ($5 per dozen). The gnarly creatures, looking like prehistoric beasts, were sweet and perfectly complimented by the locally produced Pacifio beer.
Nature and culture? In Mazatlan, we discovered we could have both.
By Necee Regis.